So I am now finally going to post about my project. I dont have a whole lot of pics, but I am going to get some more in the next day or so.
1989 (Best year ever) 240sx SE Hatch
SOHC KA24E (And I'm sticking with it) (And maybe take the E off)
Hardbody Intake Manifold (For my own little special project)
Adjustable Coilovers (Coils, sleeves, and some hacked up struts)
Lowered 4 inches
Auto to 5 Speed swap (waiting to go in)
Caddilac Projectors (yeah in the pop ups place)
So now im going to lay it out for you. I got this car a few years ago right before I moved to Alabama. I have loved it ever since. My grandfather also helped me in getting it so it is very special to me and even if it ended up as a burnt up shell I will still charish it. Nor will I let it go. When I got it it had about 150,000 on it but still ran like a champ. Just had a Huge caved in quarter on the drivers side, beat up fenders, and other little dings. Oh did I mention it had the instant rust hatch with the foam wing on it? Yeah so that was the first thing to go. I replaced it with a wingless hatch. It was originally black. While I was at auto body school, I fixed the entire body (and I really wish I had before and after pics of the quarter), primed and hand blocked almost everything on the entire car. Now it came up to the color. When I finally made up my mind on nissan daytona blue it was to late and I didn't have time to spray it. IT was okay though because I decided I was going to flat black the entire thing. Well I got the front clip done, and decided not for me. So I have finally settled on a paint scheme that I like. Well, love is more like it. You will see that later though.
The car was my daily driver until at the worst possible time my auto decided to take a dump on me. So I am taking advantage of it sitting there. I have completely stripped out the entire car (cause I like my piggy lean and mean). Pulled the motor and all other non esential parts from the engine bay such as but not limited to: EGR parts, AC and all related lines, Power Steering, working on the wiring, and other stuff. I also installed my coilover setup. While the car was lowered I decided to start wheel shopping. I couldn't really find anything I liked until one night working at a shop I saw them there staring at me. It was a set of wheels off a legend car. 13x8 to be exact. Go ahead and laugh but they look great on there (at least to me). Now I need to get some flares.
Now for the engine. I completely tore another engine down to rebuild and stick in it. Provided I can figure out this damn ignition problem, I am going to carb it. And no, not with mikuni's, solex's or webers. Holley. A single Holley 2 barrel. That is where the hardbody manifold came in. It is perfect for it. I made a custom adapter plate to do all this, and now i need to get it cast. But it is all a work in progress. It should really be different when it is all said and done. Well, if it gets done, can you ever really stop working on them? Here are some pics I have now on my comp and I will post some more soon when I get them.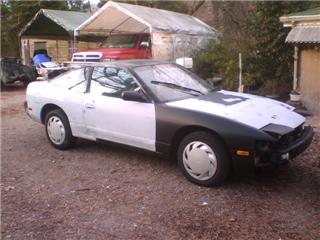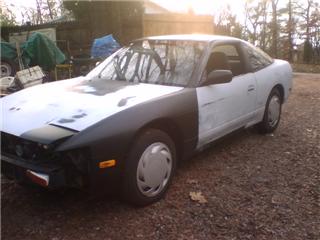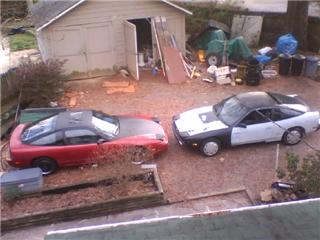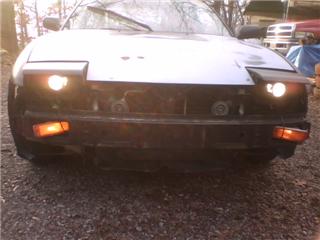 The headlights are permanent sleepy eye right now, but we modify headlight motors so that they pop up as sleepy and go all the way back down, and I am going to do that with them.
If anyone is at all interested in the sleepy eye headlight motors, let either me or the other administrator know.